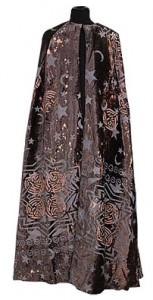 Collectors Must have!!!!
Do you wish to be invisable, I think at some point in time we all do. This Harry Potter invisibility cloak is just the answer.
This is a must add to your Harry Potter collection, an authentic replica invisibility cloak as seen in the Harry Potter movies. You will not be disapointed this cloak has a nice black silk lining with a very durable hook and eye fastner. The outside is  heavy velvet with amazing finely detailed silk screened moons, stars and charms all over the outside, and every cloak is hand finished. This is an exact replica and will be one Harry Potter item adored by other fans when thay see it in your collection.
Order your Harry Potter Invisibility Cloak.