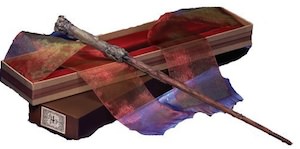 Yes we had wand's before but did we ever show you the real Harry Potter wand?
No not by itself. Now you can own a replica of the wand we see Harry Pick in the first movie.
The wand that Harry Potter gets at Ollivanders and how do you know it is from there? Simple it comes in a wand box from Ollivanders.
Harry's wand is 14 inches long and probably the lightest wand in the the whole collection of wands.
An Harry Potter collection is bare without the Harry Potter Wand.