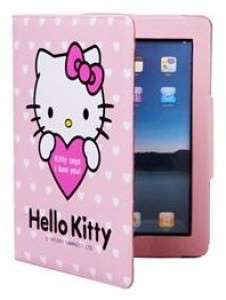 You love Hello Kitty and your iPad 2, so put them together and you get this awsome Hello Kitty  iPad 2 case.
This iPad 2 case features a huge image of Hello Kitty in her pink bow and holding a pink heart that says "Kitty Says I Love You!" with other small white hearts in a uniform pattern covering the rest of the pink case.
Made from PU leather this case is very durable and will help protect your precious iPad 2 from scratches and dirt. You will also find this case to be extremely usefull, with a standing position perfect for working or watching your favorite movie or show, and easily folds up for carrying.
Get your Hello Kitty PU Leather Folding iPad 2 Case.