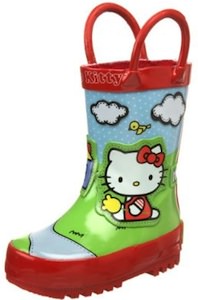 Hello Kitty loves to play outside and it does not matter if it is sunny or if it rains because she has rain boots that keep her feet dry.
And if you kid in the size range between 5M toddler and 4M big kid then there is a pair of cute Hello Kitty rain boots that will fit.
They are gone love these boots because it has Hello Kitty on it but it has more on it to. Things like birds, a house, clouds and the sun are all printed on this pair of Hello Kitty rubber rain boots.
And the rain boots are made from 100% natural rubber so much better for you health then all those plastic prodcuts.
Don't wait till it rains go order a pair of Hello Kitty Scenic Rain Boots.