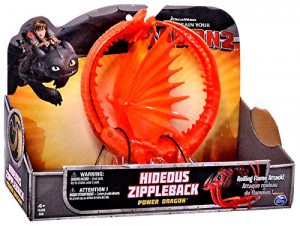 Recreate all of the action packed scenes with your very own Hideous Zippleback dragon.
This action figure features the Hideous Zippleback from the fun animated series of movies and television shows How To Train Your Dragon, the Zippleback is a long orange dragon with giant wings and known for carelessly shooting fire.
This officially licensed DreamWorks Dragons Zippleback Power Dragon measures 11 inches long and has action moving wings and features a rolling action that makes it look like it is a rolling ball of fire.
It comes packed in an open faced box so if you wish to collect it the dragon can still be on display and kept in mint condition.
Collect or play with the How To Train Your Dragon 2 Hideous Zippleback Action Figure