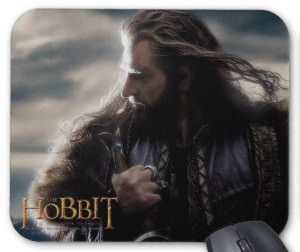 Thorin Oakenshield is the great leader of the dwarves who try to reclaim their home in The Hobbit: The Desolation of Smaug movie. He is brave and strong, so why not have him by your side when working on that tough project for work or school. He will show you the way.
This mousepad features Thorin with the wind blowing through his hair and is back lit by the sun shinning through the clouds. It also has The Hobbit: Desolation of Smaug written in the bottom left corner.
The mousepad measures 9.25″ x 7.75″ and is full of color. It is stain resistant and has a non-slip backing to ensure that your mouse will serve you greatly.
Thorin will be by your side with The Hobbit: Desolation of Smaug Thorin Mousepad.