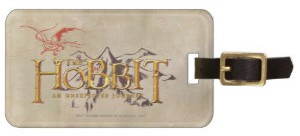 Need a way to distinguish your luggage from everyone else's? Everyone has their own way of doing this, but why not do it your way with this luggage tag and your love for the Hobbit series of movies.
The Hobbit logo is set in front of a mountain of middle earth and a red dragon searching the skies. The background of the tag is grey in color.
The travel tag does come with the leather strap and measures 2″ x 3.5″. It is waterproof, UV resistant and is made of durable acrylic.
Figure out your luggage when you have a The Hobbit: An Unexpected Journey Travel Tag.