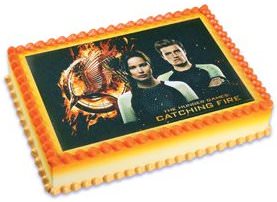 A Hunger Games party of course needs a Hunger Games cake and now you can buy a plain store cake or bake one yourself to make it into the perfect cake for you Hunger Games Party.
On the plain cake just stick this edible cake image and you are all set.
The cake topper image shows Katniss and Peeta against a dark background with a burning Mockingjay.
This cake topper fit's perfect on a 1/2 sheet or bigger cake.
Just imagine having the perfect Hunger Games cake at your party. It does not matter if it's a birthday or a movie night a cake with this image will be perfect for you.
Get ready for cake with this The Hunger Games Edible Cake Topper Image.