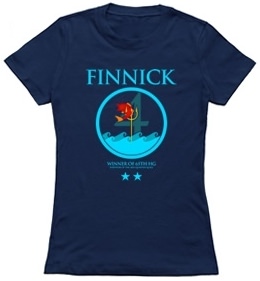 This is the Hunger Games t-shirt a true fan wants after seeing the Catching Fire movie.
This Hunger Games t-shirt comes in black and navy blue and shows a round within you can see a 4 and water and a trident with a fish on it. Above the round it says in big letters "FINNICK" and below the round it says "Winner of the 65 HG, Survivor of the 3rd Quarter Quell" and then there are two stars.
You can get this Finnick Odair t-shirt in a men and women's version in sizes Small – 6XL and all are made from 100% preshrunk cotton.
Come see all the options of this The Hunger Games Finnick District 4 T-Shirt.