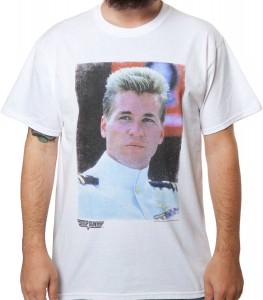 In 1986, He had a big ego and was one of the few Navy Aviators to be chosen to go to Top Gun. It is Tom "Iceman" Kasansky, of course he was known for his blonde bleached tips, his excellent beach volleyball skills and for being at the top of the class.

This great 80's t-shirt has a big, color picture of Iceman, played by Val Kilmer, in his official uniform looking quite dapper.
This t-shirt comes in sizes ranging from Small to 3XL, so that every wing man can add it to their t-shirt collection. It is 100% cotton and has a distressed look to the print to keep the shirt looking older.
"Take My Breath Away" with the amazing Iceman Kasansky Top Gun T-Shirt.