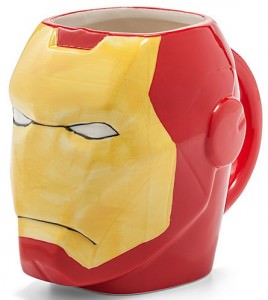 Marvel Comics has many awesome superheroes but one of the coolest looking is Iron Man with the wicked suit of armor and feirce battle skills. If you are an Iron Man fan then this is the perfect mug for you to drink your superhero beverages out of.
This mug features the head of Marvels Iron Man, it is all red with the facial front part in yellow gold using 3D molded detail to create the exact depiction of Iron Man's helmet with eyes, grin and ears.
The Iron Man mug is made from a super durable ceramic and holds 16 ounces of liquid, it's measurements are approximately 4 3/4″ tall x 3 1/2″ wide.
Wake up and be ready with the Marvel Comics Iron Man 3D Molded Mug.