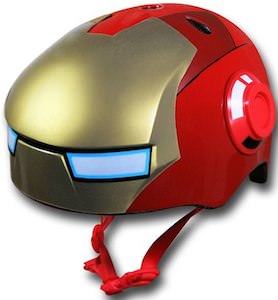 Iron Man is one of the coolest superhero's out there and if you kid thinks so to then this could be the perfect helmet for them.
This bicycle helmet looks a lot like the mask of Iron Man and that makes it perfect for kids that just adore this Avenger.
The bike helmet is made for kids age 5 and up and has a size of 50 – 54 cm. And this Marvel Iron Man helmet is TSM/CPSC Safety Certified so that you know the helmet real will do the job.
Besides biking kids are gone love running around with it all the time but it is useful to for tasks like skateboarding or roller balding.
Make you kid happy with this special Marvel Iron Man Kids Bicycle Helmet.