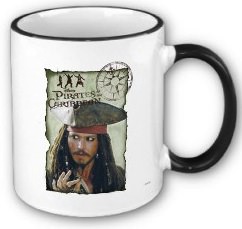 Yes girls this is Johnny Depp on this ceramic mug. And it is also pirate Jack Sparrow the one we love and fear.
A nice white mug with a great looking print of Jack Sparrow just like we know him from the Pirates of the Caribbean movies.
The print looks old but not really and has some typical pirates things on it and of course the words "Pirates of the Caribbean".
The mug is ceramic and has a colored handle and rim to make it look even better. And of course it is microwave and dishwasher save so use it the way you love to use it.
With a picture of Johnny Depp as Jack on both sides of this mug is a must have for a Johnny Depp or Pirates of the Caribbean fan.
So wait not to long and go get your own Jack Sparrow Coffee Mug.