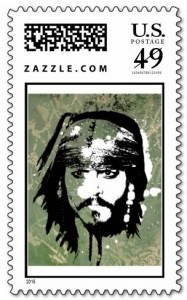 Featured on this postage stamp is a very detailed head shot image of Captain Jack Sparrow from the awesome series of movies Pirates Of The Caribbean, the image is all done with black line art and shading giving you a very unique stamp and add a colored border with a choice of many colors.
Each sheet has 20 stamps on it and you can order from 1 sheet of 20 up to 500 sheets of 20, you can get from the denomination of $0.34 (postcard) up to $5.75 (priority mail) and choose your size of stamp Small, Medium and Large.
Get a closer look at the Pirates Of The Caribbean Jack Sparrow Postage Stamp.
You may also like: