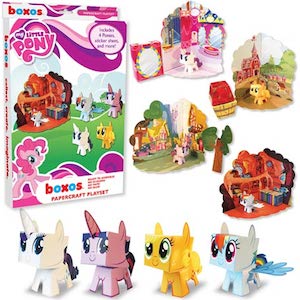 Friendship is magic for everyone. My Little Pony's show the true meaning of friendship and are always going on magical adventures.
If you are a My Little Pony fan you will have lot of fun with your special friends playing with this My Little Pony papercraft activity play set.
This My Little Pony activity play set includes paper cut outs of Rainbow Dash, Twilight Sparkle, Applejack and Rarity with real scenes from the television series "My Little Pony". Now you can build you own paper Pony family.
You and your friends will be going on some great adventures with all your My Little Pony favourite's characters.
Pretend to be in the magical land of Equestria while playing with your own My Little Pony Friendship Is Magic Paper Craft Play Set.