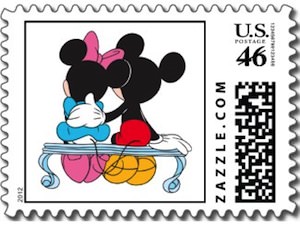 There are Mickey and Minnie Mouse sitting on a bench.
This is a postage stamp with the Disney characters Mickey and Minnie Mouse, and as you can see they are madely in love.
This official US postal stamp would be great for your mail to your loved one.
Maybe the perfect stamp for your Valentine's card or just any love letter you send.
But of course you can use it for any mail if you really like these fun Disney characters.
This postal stamp is available in all kinds of values and sizes making it perfect for your letter parcel.
Ready to send out that letter? Come and order  your Mickey And Minnie Mouse Postal Stamps.