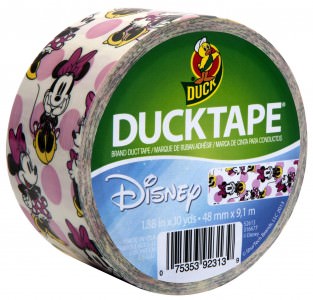 Don't just use regular Duck tape to fix the many many problems that Duck tape can be used for, use a special Disney Minnie Mouse printed roll of Duck tape.
This roll of Duck tape features Disney's loveable Minnie Mouse, find fun multiple prints of Minnie Mouse in different poses all over this Duck tape along with multiple soft pink dots.
Each roll of Duck tape measures 1.88 inches wide and is 10 yards long, this Minnie Mouse Duck tape is also very easy to tear and is just as strong and adhesive as regular Duck tape, just with a little style.
Put your own fun mark on projects with the Disney Minnie Mouse Printed Duck Tape.