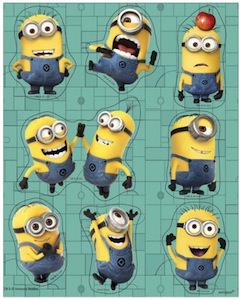 Lets party Minion style.
This is a set of stickers and they all have Minions on them and they seem to be in party mode.
Despicable Me is such a great movie and with Despicable Me 2  it will only be better so lets party and put Minion stickers all over the place.
These stickers come in a pack of 4 sheets giving you plenty of Minions to stick around.
I can't even think of a place where you should not put a Minion sticker.
So lets start today with ordering these super fun Despicable Me Minion Stickers.