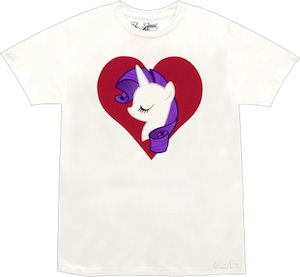 This white t-shirt shows a nice red heart and in that heart we see a unicorn and that is Rarity.
And if you are a true My Little Pony fan then you know that this is the same t-shirt that Spike wears in episode 20 of season 1.
You can show you love to Rarity just like Spike this just by wearing the same t-shirt.
And this t-shirt comes in a range on adult sizes from Small – 3XL and it is made from 100% cotton.
And of course a t-shirt with a heart like this one also would make a great gift for a loved one on any day but maybe it would be great for Valentine's day.
My Little Pony fans this is your opertunity to get a special t-shirt so don't wait come see this My Little Pony Rarity Heart T-Shirt.
You may also like: