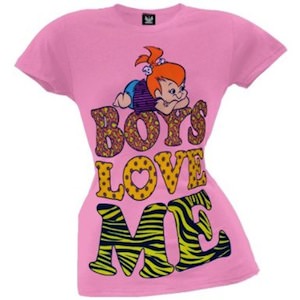 How about a pink t-shirt to impress the boys?
This t-shirt shows Pebbles the daughter of Fred and Wilma Flintstone lying on the words "Boys Love Me".
And this all make this t-shirt fun and colorfull.
The shirt has a junior fit and comes in sizes Small – X-Large.
So show the world who boys love by wearing this Pebbles Flintstone Boys Love Me T-Shirt.