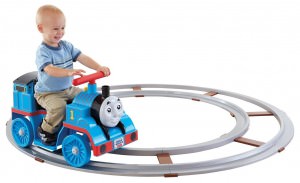 CHOO! CHOOOO! All aboard the train.
Featured here is a Power Wheels train that looks just like Thomas the Train from the hit kids television series Thomas And Friends, find the blue and red train with the friendly face of thomas on the front and a really cool feature is the sounds from Thomas And Friends that will play when you ride.
Made to easily operate safely with a push button and the track assembles very easy snaping together, this Thomas the Train includes the track and a 6-volt battery with charger.
Have a great ride with this Power Wheels Thomas The Train With Track.