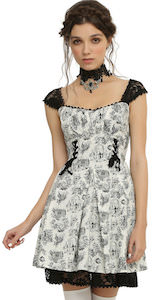 If you like Price And Prejudice and Zombies then this classy dress could be just what you need.
The sweetheart style dress seems to be in the style of the movie Pride + Prejudice + Zombies only shorter then what they would wear in those days.
The dress has white fabric with on it scenes from the movie. Just click on the picture to have a much closer look at the amazing design. Besides the great fabric this women's dress has lace underlay and straps and a corset like back. But no worries it's easy to wear the dress by simply using the zipper.
You can get this Pride + Prejudice + Zombies dress in women's sizes XSmall – 2XL and all of these amazing dresses are made from 100% cotton.