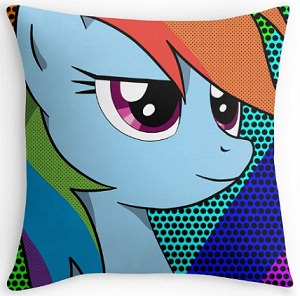 The high flying sky-blue pegasus pony Rainbow Dash from the cool animated series of My Little Pony is ready to help you sleep, travel, watch television or do many other things by becoming a throw pillow for you.
This throw pillow features a large head image of the My Little Pony Rainbow Dash with a really cool spotted pattern in the background, using bright colors as well making  this pillow look awesome.
You will get the Rainbow Dash image on both sides of this throw pillow that is available in three sizes of 16 inches, 18 inches, 20 inches and it can come as just the pillow case.
Complete your room with the My Little Pony Rainbow Dash Face Throw Pillow.