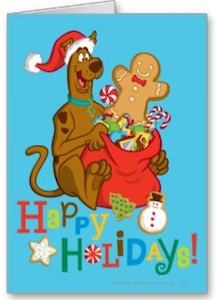 If you like Scooby-Doo and are planning to send some card this holiday season then you are in luck.
This greeting card shows Scooby-Doo wearing a Santa hat and he has a big red bag full of candy.
Below the picture it says "Happy Holidays!" and parts all in fun colors.
A card like this can be used for any holiday but it has a bit of a Christmas theme making it perfect as Christmas card to.
The Scooby-Doo Happy Holidays card is 5 x 7 inch and comes with a white envelope so that you can send it right away.
Lets stop looking for cards and just get this fun Scooby-Doo Happy Holidays Greeting Card.