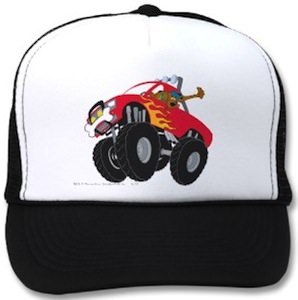 There is our friend Scooby-Doo and what is he doing?
Yes you are right he is driving around in a monster truck. A truck that even has flames printed on it and a big bone on the front.
This Scooby-Doo scene is printed on a truckers cap and this cap comes in all kind of cool colors.
If you like monster truck and or Scooby-Doo then come and get your own Scooby-Doo Monster Truck Cap.