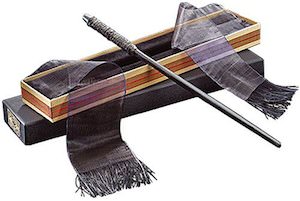 Harry Potter collectors do you have the wand of Professor Snape yet?
If not then you are in luck as we found the wand used by Severus Snape and you can have one to.
This wand is 13 1/2 inch and comes in a special box like all the wands in the Ollivanders wand shop.
And this is not a toy this wand is a collectors item from the Noble collection.
A true Harry Potter collector of course want all the wands used in the books and movies and starting with the wand of Snape is a great start.
Come have a closer look at this Harry Potter Severus Snape Wand.