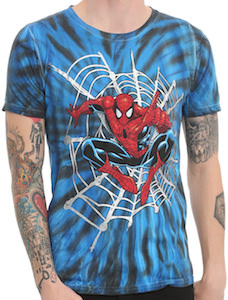 For all you Spider-Man fans out there. You will love this unique Spiderman web t-shirt.
Hang out with the friendly neighbourhood Spider-Man while wearing this amazing Spider-Man web t-shirt.
This men's blue and black tie dye t-shirt as a unique design with a picture of Spider-Man in is web.
It is 100% cotton and comes is various sizes from small to 3xl. Machine wash in cold water and dry on low.
Go on your own adventures with your favorite superhero Spider-Man and help him fight off all his enemies while wearing this t-shirt.
Let your imagination go wild while wearing this cool Spider-Man Web T-Shirt.
You may also like: