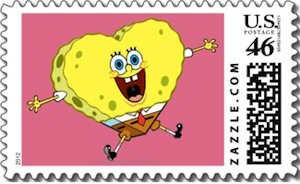 What kind of stamp are you gone put on you Valentine's card?
I hope it is a romantic stamp something like thise Spongebob one.
This Spongebob Squarepants postage stamp shows a pink background and on that you see Spongebob but he got shaped a little bit different. No square this time no now Spongebob is heart shaped and that makes it perfect for any romantic mail you send out to your loved once.
This postage stamp is an official United States Postal Service stamp and comes in all kind of values and even sizes to make it stand out nicely on your mail.
Now is the time to suprise the love of you life with this Spongebob Heart Postage Stamp.