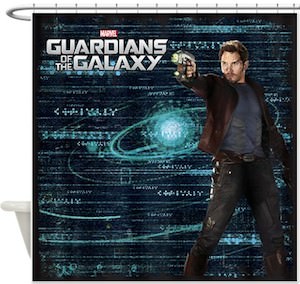 Make your bathroom look like a Marvel story with an amazing shower curtain.
This shower curtain shows Star-Lord like we seen him in Guardians of the Galaxy.
The dark background of the shower curtain shows part of the galaxy and then there is the Marvel Guardians of the Galaxy logo on the left top and Star-Lord on the right pointing his famous weapon straight ahead.
This Guardians of the Galaxy shower curtain is made from 100% softened polyester and measures 69 x 70 inch.
A shower curtain like this is not something you likely find in store and that makes it really special and that is what your bathroom deserves.
Come and have a closer look at this Guardians of the Galaxy Star-Lord Shower Curtain.