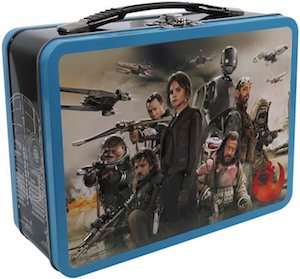 Lunch time will be so much better all thanks to this metal Star Wars Rogue One lunch box.
The metal lunch box is all themed around the Rogue One movie and it all starts on the front where you find the Rebels and yes they are all there ready to battle the Empire and we can find them on the back with many Stormtroopers and even Darth Vader.
The metal lunch box is 9 x 7.5 x 3.5 inches and that makes it the perfect size for school and work lunches but also for storing small things that are lying around your home.
You may also like: