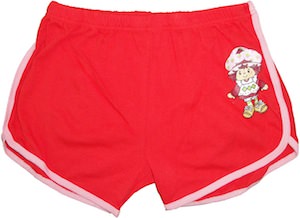 When the days get warm we all want to wear something lighter and cool.
Now we found something sweet.
Cotton Strawberry Shortcake shorts. These shorts are nicea and red with a pink edge.
On the front of the shorts it has a picture of Strawberry Shortcake and on the back it says in BIG strawberry covered letters "Sweet thing".
These shorts come in sizes small to x large and will be great for the warm days to come.
Come have a better look at the front and back of these Strawberry Shortcake Shorts.