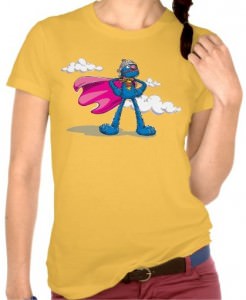 Is that a bird or a plane? …….. I'ts Super Grover!
On the front of this gold color shirt you will see the Sesame Street character Grover only this time Grover is in his super hero outfit with a long pinky red cape and a helmet along with his own version of an "G" symbol on his chest transforming Grover into Super Grover.
This cool and fun t-shirt is available in a wide variety of women's sizes that range from Small to 2XL and you get to choose one of 39 different colors that are vibrant and unique. Made from 100% cotton to give you a t-shirt that features both comfort and durability.
Have a look at the Sesame Street Super Grover T-Shirt.