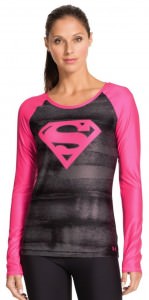 Behind the great DC Comics superhero Superman of course there is a Supergirl.
This Under Armour athletic shirt features a black and grey torso with bright pink long sleeves and a bright pink Supergirl logo on the front chest.
Made by Under Armour using a technology in workout clothing that has changed the way we look and pick out our go to apparel, a lightweight stretchy material that allows full mobility while also shedding off sweat to keep you dry.
Available in women's sizes that range from Small to XL and form fitted for comfort.
Amp up your workout in the Supergirl Under Armour Long Sleeve Shirt.