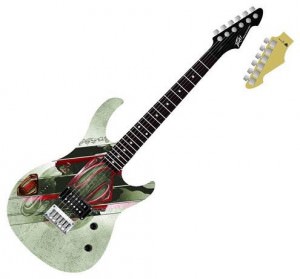 Is it a Bird, a plane, Superman, The Man Of Steel….?
No it's the Superman of music.
This is a really cool guitar that is based after the Superman movie Man Of Steel, featured on this guitar front is a high glossed finish image of a red and green Superman logo that looks like it is the inside of the guitar. Also find the Man Of Steel movie logo on this guitar.
An officially licensed DC Comics product this is a full size guitar that is a limited edition rockmaster guitar made by the trusted musical instrament maker Peavey Electronics.
Rock out in superhero fashion with the DC Comics Superman Man of Steel Rockmaster Guitar.