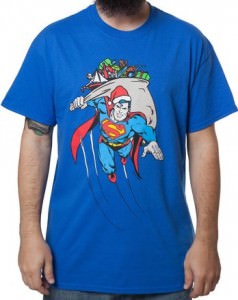 Santa Claus could definitley use some help delivering all of those presents, but who ever shall he choose?
I have a great idea, the perfect man for the job is DC Comics superhero Superman!!!!
This t-shirt features the high flying Superman streaking through the sky in his light blue outfit with a red cape, Superman "S" logo on his chest and he is wearing a santa hat and has a sack full of presents over his shoulder.
A really fun t-shirt that is available in a wide range of sizes that span from Small to 3XL, it is made from 100% cotton which will make this a very comfortable and super durable shirt.
Give santa a hand with this Superman Santa T-Shirt.