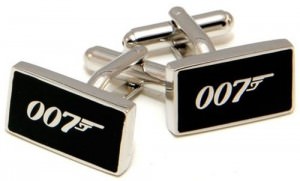 Now you can be an undercover spy by just adding a set of cufflinks, I'm sure James Bond will approve of a very nice set of 007 cufflinks and maybe he wears them too.
These James Bond cufflinks features the unmistakable 007 logo which uses the seven as a handle to complete an image of a gun, this logo is in white with a black rectangle background.
Made to be very durable these James Bond 007 cufflinks will also shine and dress up your shirt as they are polished finely to be smooth as well and are easy to put on or take off.
Class up your dress shirt with the James Bond 007 Rectangle Cufflinks.