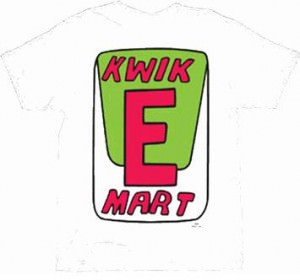 You know a classic t-shirt when you see one!!!!!
This is a classic t-shirt from the hit animated television series The Simpsons. Featuring the Kwik E Mart logo in red and yucky green of Apu's convenience store that has so many memorable laughs, one being Apu's famous line "Thank you, Come Again!".
An officially licensed Simpsons t-shirt made from 100% cotton and available in many sizes, this is the perfect t-shirt for The Simpsons fan.
Find Your The Simpsons Kwik-E-Mart T-Shirt.