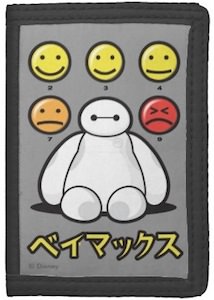 As you may know Baymax was originally a healthcare providing robot nurse and he can shows on his body 10 smiley faces to find out the level of pain your are in.
This Big Hero 6 wallet shows Baymax sitting surrounded some of those smiley icons.
A trifold wallet this is with 2 spots for credit cards and one windowed area for an ID and then of course a big pocket for full size bills. And all that can be folded into 3 making it the perfect small size wallet for school, work or any other activity.
And to make this wallet even better then it already is they put a picture of Disney star Baymax on it.
Come take a look at this amazing Big Hero 6 Baymax Trifold Wallet.