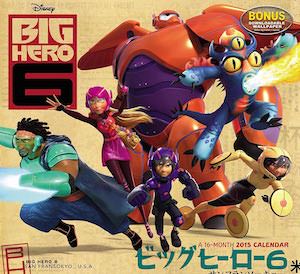 Calendars are a great way to keep in touch with what is gone happen when but it is also a great way to decorate a wall.
And now you can have this Big Hero 6 wall calendar for 2015 that will brings you many months of action from the Disney movie Big Hero 6.
Of course Hiro, Baymax and even Honey Lemon will be there to keep you entertained the whole year long.
And this Disney wall calendar even comes with downloadable wallpaper so that even your computer can look like Big Hero 6.
Cats, dogs and scenery are nice but your really want to get this Disney Big Hero 6 2015 Wall Calendar.
You may also like: