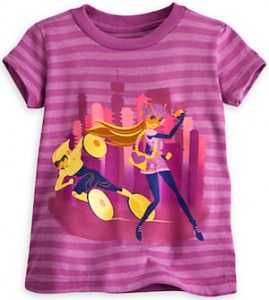 Girls like Disney superhero's to and that is why there is this kids t-shirt.
This t-shirt has purple stripes and then in the middle you can see the skyline of San Fransokyo and in front of that you can find the two girls from Hiro's team Honey Lemon and GoGo Tomago.
A t-shirt like this is perfect for the girls that liked the Big Hero 6 movie and now they can find the perfect kids t-shirt just for them.
This t-shirt is made from 60% organic cotton and 40 polyester and even has sparkles on it and who doesn't like sparkles.
You can get this Big Hero 6 t-shirt in sizes 2 – 14 so that many kids can enjoy it.
Do not wait any longer just come get your Big Hero 6 Girl Power kids T-Shirt.