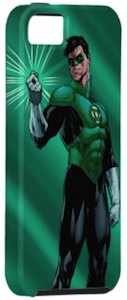 Your new iPhone 5 can use some superhero protection and that is why we show you this iPhone case.
This case is made by Case-Mate and is mainly green and besides that you see Hal Jordan as the Green Lantern showing his ring and it's powers.
Of course as a good case should this also keeps the ports and buttons availible for use while protecting your phone from harm.
So if you like the Green Lantern and your iPhone then come and get this Green Lantern iPhone 5 Case.