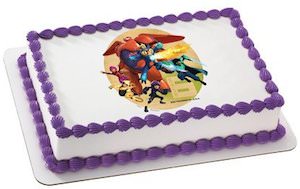 OK you are planning a Big Hero 6 birthday party and need the perfect cake for this occasion.
Now any cake can be the perfect Big Hero 6 cake as this cake topper image can turn a store bought or home baked cake into a Big Hero 6 cake.
The cake topper image is edible and will just look stunning on the cake. And the image shows a bunch of characters of the Big Hero 6 story including Hiro, Baymax and even Honey Lemon although that does not mean that the cake has to be that flavour.
The Big Hero 6 cake topper image comes in different sizes so that it fits you need perfectly.
Now is the perfect time to get ready for that Big Hero 6 birthday party, lets go shop for the Big Hero 6 Edible Cake Topper Image.