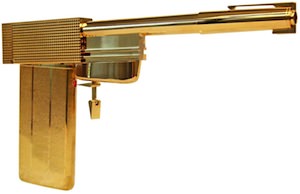 This is a prop replica of the golden gun used in the James Bond movie "The Man With The Golden Gun".
This gun was used by Francisco Scaramanga to try to kill James Bond.
Of course James Bond survived but the gun is something that kept us all dreaming.
Now you can own a golden gun like Francisco Scaramanga used.
The gun like the one in the movie comes apart in comments parts. There is the fountain pen that becomes the barrel, there is a cufflinks that becomes the guns trigger, A golden cigarette case becomes the handle and the lighter becomes the main guns body.
All these parts are 18kt gold plated and this whole gun comes with display case to show you special possession.
The Golden Gun is something only a real James Bond fan can appriciate so if you are that person then you should see it.
So don't wait and come have a better look at this James Bond 007 The Golden Gun Replica.