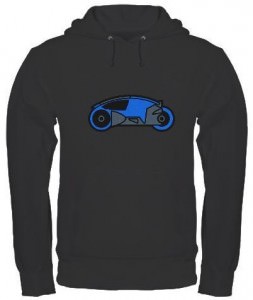 TRON Light Cycle the futuristic two wheeled vehicle made for the simulated world of the TRON Universe.This cool vehicle can be found on the front of this TRON hoodie, which by the way is made for the earth universe.
This TRON Light Cycle hoodie is great to throw on and off easily and is super comfortable, made from a 10 oz. fleece blend (90% cotton/10% polyester) and has a large front pouch and draw strings for the hood, the cuffs and waistband are a heavy-weight 1×1 ribbing.
Find your TRON Light Cycle Hoodie.