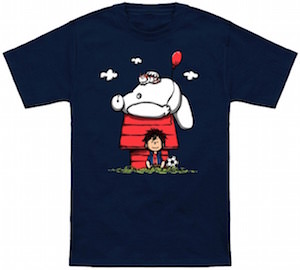 What would happen if Big Hero 6 would play in the Peanuts universe?
This t-shirt shows that story.
On the shirt you can see the dog house of Snoopy but this time not Snoopy but Baymax is lying on the roof holding a balloon and having the cat Mochi on top of him.
And then in front of the dog house you can see Hiro sitting on the ground instead of Charlie Brown and there is even a soccer ball.
And all that makes for a great fun t-shirt that is not the typical Big Hero 6 merchandise but still really fun.
And you can get this Big Hero 6 t-shirt in many sizes and styles for men, women and kids so that the whole family can enjoy this great looking t-shirt.
Now is the perfect time to check out this Big Hero 6 Meets Peanuts T-Shirt.