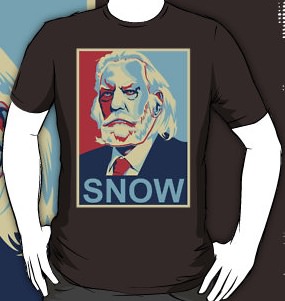 The people of Panem of course love President Coriolanus Snow……
OK maybe they don't but still this is an amazing looking President Snow t-shirt.
You could wear a t-shirt like this to show the world how Snow looks like and then they know to run when they see him.
This Hunger Games t-shirt comes in a wide range of colors and is made out of 100% cotton. The image is printed on an American Apearal t-shirt and comes in different sytles for men and woman.
Support The Hunger Games and wear your President Snow T-Shirt.