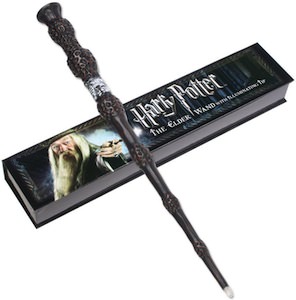 Here we have to collectors wand that you have your eyes on and now you can get one for yourself.
This is the Elder Wand of Professor Dumbledore and this reproduction is special as it will light up when you wave it.
And Dumbledore's wand is coldcasted porcelain to make it look and feel even more like the true wand of Harry Potters mentor.
Of course a special wand like this deserves a special storage box and so this one comes in a character box with pictures of Dumbledore on them.
Now is the time to ad something special to your Harry Potter collection, come get your Dumbledore's Illuminating Elder Wand.