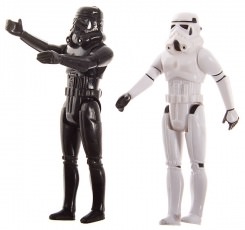 Here we have two Star Wars action figures.
One is the normal Stormtrooper in white and the Black Shadow Stormtrooper.
Both action figures come in one package with included weapons so that they can protect the galaxy.
The Stormtroopers are 9.5cm tall and can move their arms and legs.
If you Star Wars collection does not have these two figures then you should order your own Star Wars Black And White Stormtrooper Action Figure.