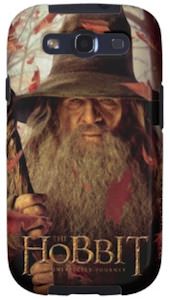 Your Samsung Galaxy SIII phone could use some protection from harm and what better way to do that then with a case from Case-Mate.
This case is not just any plain colored case, no this case is special.
On the case you can see a picture of Gandalf from the Hobbit movie and it even has The Hobbit logo on it to.
A case like this is special and to make it even more special they made it a limited edition.
The case itself leaves all the ports and buttons of you Galaxy phone availible for use.
And the case even has a shock absorbing liner to keep your Samsung phone in perfect condition.
If you are a Samsung Galaxy SIII owener who likes The Hobbit then you have to take a better look at this The Hobbit Gandalf Samsung Galaxy SIII Case.