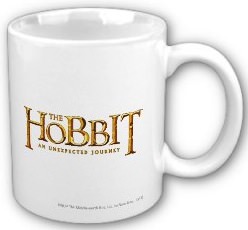 With the Hobbit hitting the big screen your love for everything Lord of the Rings and Tolkien becomes stronger.
And what better way to start the day then drinking you morning coffee out of a Hobbit mug.
This mug is white and shows The Hobbit and unexpected journey logo on both sides of the mug.
You can get the mug in different sizes and it is dishwasher and microwave safe.
So Hobbit fans come and get your The Hobbit Logo Mug.